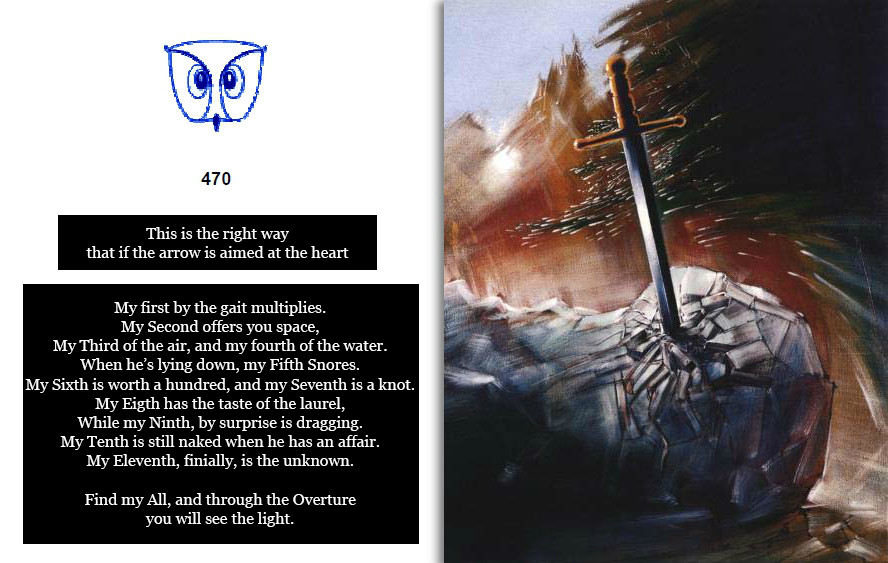 Clue 3 gave us a direction we must follow but to find the precise spot, we must solve the riddle in the 470 Enigma. " This is the right way that if the arrow is aimed at the heart."
The illustration depicts what appears to be a fallen knight with a sword to the skull.  It also has resemblance to the Excalibur Sword lodge in stone.  Did Valentine ask Becker to create an illustration that would draw attention to a legendary sword and battle?
The clue gives us hints to words that we are to use the first letter of each word.  Though much easier to understand in French, the riddle breaks down like this…..
Golden Owl Of France-Clue 4-470 Enigma
My First…………………..AhAhAh=A
My Second………………..A Space=_
My Third………………………….Air=R
My Fourth……….Offered Water=O
My Fifth…….N-Laying Down-Z=N
My Sixth……………………….Cent=C
My Seventh………….E as a node=E
My Eight……………………Victory=V
My Ninth……………….AAAHHH=A
My Tenth…….French Grammar=U
My Eleventh….Math Expression-X
Answer: A_RONCEVAUX
In 778, Roland met his death during the battle of Roncevaux Pass, the location for the defeat of Charlemagne. He was also known to carry the legendary sword, Durandal.  Valentine's statement," it happened in 778," also adds weight to the solution of this clue.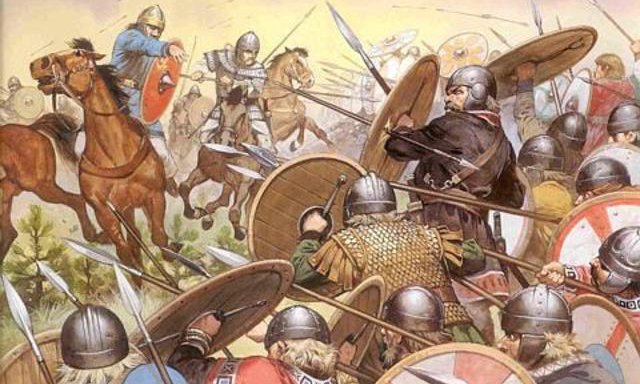 Golden Owl Of France-Clue 4-470 Enigma
While the answer seems to coincide with illustration to this clue, we are looking for possible reverse engineering or misinterpretations.  After all, if  9 of the 11 clues are figured out correctly, there should be a large group of people circling a small area but they are not.
While Roncevaux Pass is likely to play in this clue, it's good candidate for a clue that has more information than what meets the eye.  Valentine gave us some foreshadowing in the previous enigma that led us to believe there was something important in the following clue.  Additionally, this clue ends with……
"Find my all, and through the Opening(Overture) you will see the light."
Summary:
It is likely that Roncevaux Pass is related to the answer to this clue and is the commonly accepted solution.  However, given the importance stressed by Valentine more than once, it is also probable there is more to know here.

Whats in the Bag?
Clue 2: To find my all, just to be wise,
Because the Truth, in truth, will not be a Devin's affair.
Clue 3: Is there something important we must learn at out southern destination?
Adding…
Clue 4: Find my all, and through the Opening(Overture) you will see the light.
---
Join our New, Golden Owl Facebook Group!
Golden Owl Of France-Clue 4-470 Enigma